Lentils….Mediterranean Healthy. Beware: do not eat them raw.
Protein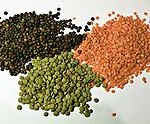 As a young girl, I remember visiting my maternal grandmother who often made me soup for lunch or dinner. It was ALWAYS lentil soup. I cannot recall a time that I went to my grandmother's house and did not eat lentil soup. I have to say that her lentil soup was amazing!!! But, at the time I never realized that my grandmother was not only a great lentil soup "cooker" but she was also providing me with one of the most nutritious meals a child could eat.
There are various types of lentils as I mentioned in the last blog. Some of the most common are red, green and yellow. My favorite is probably green, but I definitely like all of them.
One key piece of information about lentils is that they should not be eaten raw. This is because raw lentils have "anti-nutrients" which interefere with the absorption of nutrients. Soaking lentils overnight removes the anti-nutrients. Some lentils need to be soaked before cooking, while others do not have to be soaked and should be boiled immediately upon opening the package. Email me if you have questions about this or please comment below.
Lentils contain very high levels of protein and are an excellent source of protein for not only vegetarians but for everyone since we all need protein. They can help provide protein to those on a low-carb diet or even those of us who are trying to maintain our figure and work out. Athletes often eat lentils the night before their big match. They also contain high amounts of iron which is important in pregnant women, children or in people who are anemic.
In addition, lentils have folate (also good in pregnancy) and vitamin B.
Finally, lentils contain a high amount of fiber, and they are important in preventing colon cancer. Green lentils contain about 20% more fiber than non-green lentils so if you are trying to increase your fiber, I would recommend using green lentils.
Who is going to make lentils for dinner tonight?
8 Responses to "Lentils….Mediterranean Healthy. Beware: do not eat them raw."
Leave a Reply