FRIDAY FEAST!!! Yellow Rice….why is it yellow???
Spice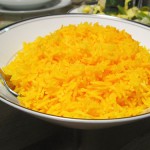 When I make a stew, I ALWAYS make "yellow" basmati rice as the side. My husband does not understand why I always make this "yellow" rice. He eats it, but with comments and smirks …. In other words, "why don't you make "white" rice?". Finally, yesterday, I realized that my husband thought yellow and white rice are two completely different types of rice. I realized that he must not be the only one who had that thought. So I would like to clarify that when rice is "yellow" it is because TUMERIC is added to "white" rice. The rice is actually not "yellow" by nature.
So what is TUMERIC???
Tumeric belongs to the ginger family. It is has been used for thousands of years.
I am going to give you the same answer I gave my husband last night as to why I ALWAYS make "yellow" rice.
 Its easy! I sprinkle 1 teaspoon of tumeric on 1 cup of rice.
It has antiseptic and antibacterial properties…(you can even use it directly on a scrape or burn)
It helps treat people who have psoriasis and can help with various benign tumors
It can help prevent prostate and breast cancer (there are numerous studies on this!!!)
Chinese medicine has been using it for 100′s of years for depression
There are more reasons why tumeric is one of my favorite spices but these are the main ones. I say sprinkle tumeric on everything. It can only help, and my husband is going to have to eat white rice when we are not eating at home
One Response to "FRIDAY FEAST!!! Yellow Rice….why is it yellow???"
Right here is the Says:
September 22nd, 2012 at 6:43 pm

You need to be a part of a contest for one of the best blogs on the web. I will recommend this blog!

[Reply]
Leave a Reply