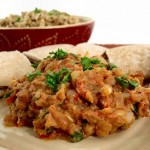 Try this Fava Bean Dip Recipe. Please let me know how you like it.
16 ounces of fresh fava beans, shelled and peeled (canned fava beans also okay) 
2 tablespoons lemon juice or freshly squeezed lemon
2 tablespoons tablespoon extra virgin olive oil
1/2 teaspoon salt
pita bread for serving
Fill a medium saucepan with water and bring it to a boil. Pour in the fava beans. Boil the beans for approximately 5 minues. Drain, reserving about 1 tablespoon of the cooking liquid. Peel the fava beans. 
Put the beans, cooking liquid and lemon juice into a blender or food processor. (Add more liquid to make a thinner dip).
Remove the mixture and place into a serving bowl. Stir in the salt. 
Serve with pita bread for dipping.
Other tips: Add tomatoes or onions or parsley.
2 Responses to "Fava Bean Dip Recipe. Add Mediterranean Fiber to Your Diet."
Kim Says:
January 30th, 2011 at 6:35 pm

I have been wanting to try this! Thanks for the recipe, I will let you know how it turns out Kim

[Reply]

Fat Loss Says:
May 25th, 2012 at 5:25 am

Nice recipe.Healthy and good for people that need something different

[Reply]
Leave a Reply