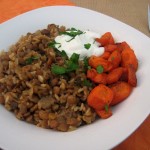 Mujadarah Recipe
Serves 4 
Vegetarian, vegan (if you use oil or margarine instead of butter), and gluten free
Ingredients
6 medium yellow onions, sliced thin (yellow onions are healthier than white)
2 tablespoons of olive oil (can also use butter)
2 tablespoons vegetable oil
2 cups green or brown lentils (GREEN is my favorite plus it has more fiber)….(red is not a good choice for this) 
2 cups white or brown rice (Brown is healthier but either is fine) 
1/2 teaspoon cinammon and 1/2 teaspoon cumin
1 teaspoon salt and 1 teaspoon pepper
Instructions:
1. Slice the onions into long pieces (do not dice). Heat medium frying pan on med-high heat. Add Veg­etable Oil and  onions. Cook until onions are caramelized. (You can add one onion at a time to make easier)
2.  Boil 7 cups of water in a medium saucepan. Add lentils, salt and pep­per. Cover, reduce heat and sim­mer for approximately 20 minutes.
3.  Add rice, olive oil, cumin, cinammon and cover and sim­mer for an addi­tional 20 minutes.  Remove from stove
4. Once done with lentils and rice add the carmelized, blackened onions. 
Let me know how it turns out.
Tips:
Use same amount of cups of lentils and rice
Add flat leaf parsley or cilantro for topping when serving
Serve wtih yogurt, pita bread, salad, fruits or hummus
Ellen has also listed a recipe below in one of her comments. She said that Mujadara is one of her favorites.
Add Comment
|
2 Comments
|